As the importance of mental health becomes more mainstream, we've made it our business to know more about alternative therapies that support overall well-being. One of these therapies— and a highly effective one at that— is animal-assisted therapy (AAT).
Service animals for therapy have been part of holistic treatment plans for several centuries. Today, they're used all over the world for mental, emotional, and physical ailments. Often, they're used to supplement more well-established forms of therapy like psychotherapy and physiotherapy.
What Can Animal-Assisted Therapy Help With?
We strongly believe in animal-assisted therapy because we've seen it help all kinds of people. AAT can help with patient goals such as achieving balance, minimizing aggression, developing socio-emotional responsibility, and cognitive rehabilitation. To make this possible, our animals receive training so that they can help clients cope with daily life,  chores, and tasks. 
In terms of psychological therapy, studies have shown that people suffering from addiction, anxiety, and depression benefit greatly from having an animal companion to care for.
Farm Animals And Lucky The Horse
Our animal-assisted program doesn't just involve dogs, it also includes several cuddly and fluffy farm animals! Our licensed and resident animal therapist, Jean Hayes, Ph.D., facilitates therapy with a wide array of farm animals such as llamas, donkeys, chickens, baby goats, horses, and rabbits.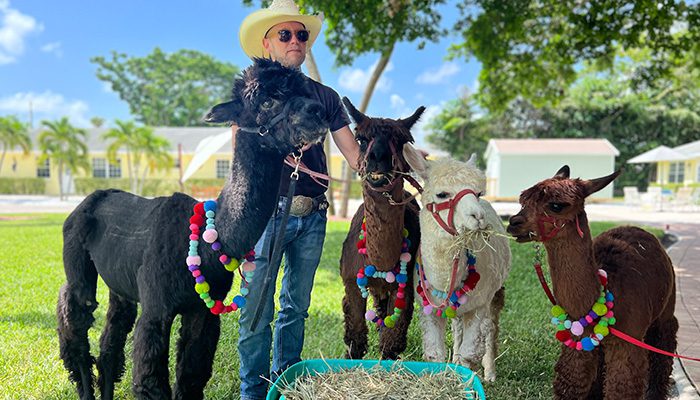 Another trailblazer in animal-assisted therapy is Dr. Blaire Barone with Lucky Horse Sanctuary. She rescued Lucky, a 30-year-old horse that was in an abusive living situation. Little did she know that her determination to save Lucky's life would change her life too.
Since joining the sanctuary, Lucky has provided animal assistance and companionship to Dr. Barone's patients. Even after Lucky's passing, Dr. Barone remembers the horse's recovery with fondness, "The Lucky Horse Sanctuary is a healing and magical place that promotes wellness of the mind, body, and spirit, using rescued animals to guide clients through the journey of recovery, healing, and acceptance."
Benefits Of Animal-Assisted Therapy
Dr. Barone visits Genesis House to provide animal therapy to patients. In addition, these animals have an innate ability to improve the relationship between therapists and patients. In fact, several studies have shown that animal-assisted therapy helps patients form better bonds with their therapists and environment. This helps them stick to their treatment plans and see them through.
Including animal therapy in treatment programs aid patients' well-being. They facilitate the release of endorphins in the body and help create a sense of pleasure. It's also a good complementary treatment that can minimize one's dependency on medications and the side effects that come with them.
Contact us today to begin your journey to lasting wellness!