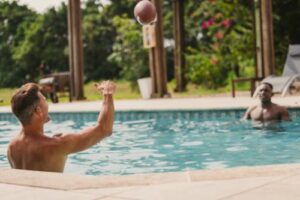 Across the country, men struggle to control their alcohol and drug use. An inability to control their substance use can often lead to a host of health, financial, and legal issues. It also affects each aspect of his life, ruining his hopes for the future. Fortunately, this doesn't have to be the case. At the men's rehab program at United Recovery Project in Florida, we give men the chance to heal and recover from addiction. We're committed to helping each man in our luxury addiction treatment program find the tools to become sober and healthy members of society. To learn about the substance abuse treatment options at our men's rehab project, please call our team today at 833.525.0166.
American society tells us that men must be strong, regardless of what's happening in their life or the challenges surrounding their health. As a result, many men who struggle with mental health conditions and substance use don't seek dual diagnosis treatment for fear of the stigma. Fortunately, a men's rehab allows a variety of benefits to each person in our program, such as:
Men have the opportunity to find support and advocates: It's critical to find allies and support throughout the recovery process. It's often difficult to stay sober outside of treatment without help. Our men's rehab program offers friendships and relationships with other people suffering from similar challenges, which allow men to stay sober for longer periods of time.
This treatment offers fewer distractions: Men and women are often advised that they should not engage in romantic relationships within the first year of recovery. Attending a treatment program for men lessens the likelihood of developing romantic attachments. While treatment in programs like our partial hospitalization program is co-ed, we maintain separate housing for men and women so they can work with their gender peers in a comfortable environment.
There is more of a focus on men's issues: Our men's rehab program allows us to focus on the issues that frequently only affect men.
Men may find it easier to communicate: Many men don't feel that it is easy to communicate with men and women. However, when men work solely with other men, they may be more willing to discuss the issues that they're facing in recovery.
Overall, the benefits each person experiences depend on their unique situation. For more information about the benefits, please reach out to United Recovery Project at 833.525.0166 today.
Therapy At Our Men's Rehab Project
Therapy is an integral part of treatment at United Recovery Project. Therapy gives the men in our drug addiction treatment program the opportunity the chance to understand what the cause of their addiction is, enabling them to overcome each challenge that comes with the recovery process. When they return to their men's housing, they can work with their peers and discuss what they've learned in a supportive environment.
During the admissions process, we perform an initial intake assessment to determine what the man's needs are. During this process, we determine whether he needs mental health treatment, how severe his addiction is, and more. Once we've completed this process, we work with the patient to create a treatment plan, which includes a variety of addiction therapy program options, including:
Anger management
Group therapy
Motivational interviewing
Dialectical behavior therapy
Cognitive-behavioral therapy
With the help of an individualized treatment plan, we give each many the tools that he requires in order to be successful.
Mens Rehab Center Locations
Florida, New York, New Jersey, Pennsylvania, Ohio, Georgia, Massachusetts, Minnesota, Illinois, Tennessee, Oklahoma, Louisiana, Maine, California, Nevada, Colorado.
Don't wait another day!
Recovery is possible with United Recovery Project
Find The Healing You Need
At United Recovery Project, our holistic approach to addiction treatment centers around addressing and healing the underlying issues at the root of addiction. We help guests heal mentally and emotionally.