Intensive Outpatient Program (IOP) For Addiction Treatment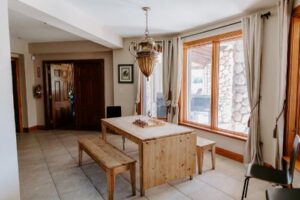 Addiction is a chronic disease. Those who struggle with alcohol or drug addiction need support and professional counseling on the road to recovery. Dependence on addictive substances is nearly impossible to conquer through willpower alone. However, United Recovery Project offers a supportive environment and an evidence-based approach to treatment that can help you make lasting changes in your life. Our intensive outpatient program (IOP) is part of our full continuum of care in our luxury addiction treatment center. Here, you'll find a strong network of support, a treatment team that understands the challenges of recovery, and services to help you get back on your feet.
Begin your journey to recovery today. Reach out to United Recovery Project at 833.525.0166 or connect with our team online today.
Do You Need An Intensive Outpatient Program?
Drug and alcohol addiction can cause damage to your physical and mental health, finances, and relationships. Some of the signs that you might benefit from this level of substance abuse treatment include:
Using prescription medications in ways other than as prescribed
Feeling like you need drugs or alcohol to get through the day
Problems at work, at home, or at school as a result of drug or alcohol use
Physical or mental health issues resulting from substance use
Relapsing after a period of sobriety
Our intensive outpatient program is ideal for those who have been through drug and alcohol detox, residential treatment, or a partial hospitalization program. While IOP programming can be similar to PHP, IOP allows clients to live in the comfort of their own homes and maintain a job. A solid foundation for recovery, where you've begun to develop healthy coping skills to avoid relapse, is essential for an IOP. Guests in our IOP should have a supportive, drug-and-alcohol-free living situation. They can also reside in our sober living housing, where they'll live with others in recovery.
What To Expect In Our Intensive Outpatient Program
Unlike traditional inpatient programs, our intensive outpatient program allows guests to take advantage of the many services offered by United Recovery Project while continuing to live at home. Individuals taking advantage of this program will have the structure which is so important for people at the beginning of recovery, but will not have to leave their loved ones or the comfort of their homes.
Guests will participate in individual, group, and family therapy to help deal with the issues causing stress in their lives. Group therapy is particularly important in early recovery, and clients will learn about 12-step recovery, anger management, and communication skills, among other important issues. Once individuals have completed our partial hospitalization program, they will work with our staff members to determine which follow-up treatment is best.
Other addiction therapy programs and services we offer include:
Trips to local beaches
Life skills training to help with employment and daily living activities
Relapse prevention education
Creative therapies, including art therapy and music therapy
Nutrition workshops to help our guests become their healthiest selves
We also offer dual diagnosis treatment to help those struggling with co-occurring addiction and mental health issues.
Intensive Outpatient Program Locations
Florida, New York, New Jersey, Pennsylvania, Ohio, Georgia, Massachusetts, Minnesota, Illinois, Tennessee, Oklahoma, Louisiana, Maine, California, Nevada, and Colorado.