Outpatient Drug and Alcohol Rehab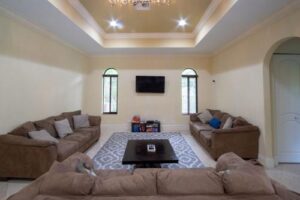 Drug and alcohol addiction can impact the lives of many people. Recognizing what it has done in your life can mean taking the first step towards healing by reaching out for therapy. An outpatient drug and alcohol rehab center can be the life-changing resource some people need. At United Recovery Project, we offer a range of luxury treatment programs designed to give you what you need to find healing while living at home.
Who Can Benefit From An Outpatient Drug And Alcohol Rehab Center?
Not everyone should choose an outpatient program. Some people need more support during the treatment process. For that, a drug and alcohol detox and residential treatment program may be the first step. For those who are unsure what level of care is best for them, reach out to our counselors. We can provide a full assessment to determine your specific needs. Some people who may benefit from an outpatient treatment program include those who:
Are not actively using drugs or alcohol right now
Have been through a residential program
Have a safe, drug-free environment to live in
Are committed to change and improvement
Have ample support at home from those who don't want them to use drugs or alcohol
What Help Can An Outpatient Drug Rehab Program In South Florida Offers?
Once a person begins therapy, they will work closely with professionals who can offer one-on-one support and guidance. At United Recovery Project, we are here to support you through the ups and downs of recovery. That includes providing advice, skills, and strategies to help you stay on the path of sobriety.
One of the ways this happens is through the use of therapy. A range of therapy types is available, including individual and group therapy sessions. Here, you will work closely with people who understand what's happening to you and offer specific insights into how to gain control over your future.
Some of the addiction therapy programs available in an outpatient alcohol rehab program include:
Cognitive-behavioral therapies
Equine therapy programs
Arts and crafts therapy programs
Fitness programs
Health and wellness support
Each therapy provides a person with addiction tools to use to address their symptoms. For some, this means providing strategies for better management of stress. For others, it may mean managing inaccurate or negative thoughts that lead to poor behaviors. It is a combination of each of these therapies that helps a person to heal fully. We are proud to offer both evidence-based and holistic therapy at Untied Recovery Project.
Why You Should Not Put Off Outpatient Addiction Treatment Programs
The challenges of drug and alcohol addiction are very real. Some people may need addiction therapy to learn how to move forward. This may include helping you stop using, giving you tools to manage triggers that make you want to use, and resources to better manage relationships. Every person's needs are a bit different, but with the help of our skilled clinicians and dedicated team, you can find treatment for yourself.
With treatment, you may be able to:
Rebuild relationships that matter to you
Stop using drugs and alcohol and not feel the need to do so
Gain control over your mental health needs
Regain control over your thoughts and behaviors
Find a way forward without feeling lost
Overcome the damage from past trauma
The only thing you have to do right now is to reach out to a substance abuse treatment center like United Recovery Project to learn how to get started.
Get Treatment Started Today By Calling United Recovery Project
United Recovery Project provides a complete outpoint drug and alcohol rehab center that's available to you. Our luxury treatment center, exceptional therapies, and dedicated professionals are here to support you through the healing process. To learn how we can help you, call 833.525.0166 or contact our professionals today!
Outpatient Drug And Alcohol Rehab Programs
Florida, New York, New Jersey, Pennsylvania, Ohio, Georgia, Massachusetts, Minnesota, Illinois, Tennessee, Oklahoma, Louisiana, Maine, California, Nevada, and Colorado.