Residential Addiction Rehab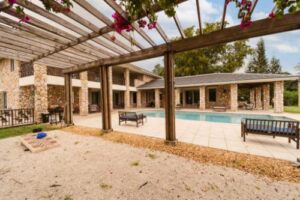 One of the most significant issues facing the United States today is a rampant amount of drug addiction. It is estimated that more than 23 million people over the age of 12 need some form of drug or alcohol abuse treatment. Unfortunately, less than 12% of these people can receive the luxury addiction treatment they need. For those struggling with addiction, going to a residential drug rehab center for an addiction to drugs & alcohol would be a great option.
Several benefits come to those that go through formal rehab for the addiction process. One of the main benefits of a drug rehab program is that you will get to go through the process in a safe environment. Here at United Recovery Project, we believe in treating the mind, body, and spirit of those suffering from substance use disorder.
What To Expect At Our Residential Florida Rehab Facility
United Recovery Project offers clients a serene setting in tropical South Florida just minutes from the beach. To learn more about our housing options, visit our facility page. Once you arrive at United Recovery Project, an intake specialist will help guide you through the first day of residential treatment. Throughout the first week, clients typically meet with a psychiatrist, or medical doctor and establish their treatment plan. This will include meeting with their therapist for an individual therapy session to put together the best treatment plan for their individual needs. Clients can expect to attend group sessions daily, participate in daily 12 Step meetings, have three meals daily, and activities on the weekend.
We believe in allowing clients the opportunity to learn about having fun in recovery. Whether attending local AA or NA events or attending the movies, many people don't understand these experiences without drugs & alcohol. It is important in early recovery to learn how to participate in life sober.
Why Is Detox Necessary When Treating Addiction?
The truth is there is no one-size-fits-all solution to addiction. Some achieve long-term recovery without a relapse, and others relapse consistently. The staff here at United Recovery Project understands this and it's why we believe in an individualized approach to addiction. Our experienced clinicians and staff utilize various therapies to put together a treatment plan that addresses the core of your substance abuse. You or your loved one will have the opportunity to attend sessions using the most up-to-date addiction therapy programs such as:
Creative Therapies like Art & Music
Relapse Prevention Education
Life-skill Training
Health, Wellness & Fitness
These are just a few of the therapies that clients can expect to participate in throughout their stay, based on their individual needs.
Should I Travel To Attend A Drug Rehab Program In Florida?
For many people finding a good substance abuse treatment center in their area can be hard to find. It's even more difficult to find the best program for your individual needs. Many treatment professionals believe that traveling away from your using environment can greatly benefit ongoing recovery.
Here at United Recovery Project, we understand how important the environment is when treating addiction. Our South Florida location provides a serene setting and is central to hundreds of 12 step meetings weekly. We believe that putting someone who is struggling in a safe, controlled environment is essential to successful treatment. Once you contact one of our trusted treatment consultants, we can help you, and your loved one arrange travel and transportation to our detox facility regardless of where you are in the country.
Residential Addiction Rehab
Florida, New York, New Jersey, Pennsylvania, Ohio, Georgia, Massachusetts, Minnesota, Illinois, Tennessee, Oklahoma, Louisiana, Maine, California, Nevada, Colorado.